Hotel - Welcome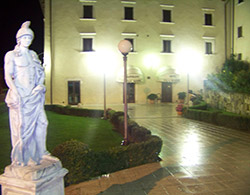 Villa Sgariglia is a 3 star hotel close to the center of Ascoli Piceno, in the Marche Region. The building has 13 bedrooms, all renewed, comfortable and well finished, perfect for a pleasant stay.
The hotel has a wide private parking, useful even during a ceremony; a stunning swimming pool and a 16 hectars park into which is possible to have a long walk, keeping fit and be delighted by an amazing view on Ascoli Piceno and on the Tronto valley.
Villa Sgariglia is the best solution for who are looking for a place where to stay in Ascoli Piceno: here they will find the most excellent services, far from the daily city chaos, having the choice to keep in touch with the nature.
The Villa is known to be also a good restaurant, really appreciated in Ascoli Piceno, where are served rich menus with typical dishes from the Marche, a cooking cared by an expert Chef.
The position, the rooms, the green, the quiteness into which the Villa is plunged, make Villa Sgariglia the best place where to spend some unforgettable holidays in total confort and relax.