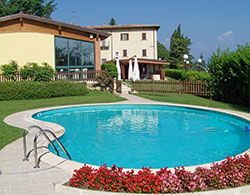 Among the most beautiful and striking villas in the Marche Region, Villa Sgariglia is along the road that lead to Colle San Marco, in Piagge place.
Plunged into the green, the Villa is in a strategic position on Ascoli Piceno city and is delighted by a stunning panoramic view on the Tronto valley.
The Villa, built in 1673, belonged to Sgariglia Family that, between the XVII and XIX century was among the most important and rich in Ascoli.
Renewed in 2001, it hosts a Touristic Hotel Center and nowadays is one of the most beautiful hotel in Ascoli Piceno and among the most appreciated location where to set a wedding.
Villa Sgariglia has a wonderful swimming pool nestled in a 16 hectares park, that surrounds the building and into which is possible to have a walk, to play and be delighted by a striking view on Ascoli.
Our amazing Resort is easily reachable from the highway exit "Ascoli-Mare", following the indication for Colle San Marco.