The Garden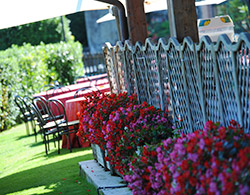 Stunning building plunged into the green, Villa Sgariglia has a wonderful park of about 16 hectars, into which is possilble to have long and reinvigorating walks in touch with the nature or keeping fit practicing sports, during the holidays You are spending in our 3 star hotel, close to the center of Ascoli Piceno.
The grass lawn of Villa Sgariglia is really well finished: every corner is perfect, most of the details are in stone, that gives more prestigious to the Villa, there are evergreen plants, officinal herbs, water games, neoclassic statues and flowers that, thanks to its colours, make everything once more graceful.
The garden of this restaurant plunged into the Piceno, in the Marche Region, is also embellished by the pool, that at the evening makes the ambiance very striking, suitable to celebrate important and exclusive events.